About Amanda

Cloud

Key Features

Best Practice Solutions

Value for Customers

Amanda Services

Next Steps
Developed by Granicus, a GovTech 100 company with 25+ years of expertise, Amanda helps governments digitize and automate critical business functions to increase citizen engagement and drive economic growth.
From permitting planning, licensing, and service requests to inspections and code enforcement, Amanda empowers government agencies to automate, track, and analyze their core processes. Amanda also makes eGovernment secure with advanced authentication, access control, and encryption technologies that meet modern agencies' security and compliance needs.
Amanda gives government agencies the ultimate flexibility in their approach to modernization. Delivered as a cloud-based or on-premises solution, adopting Amanda is so flexible and easy that over 350 government agencies use Amanda to improve citizens' experiences and boost growth.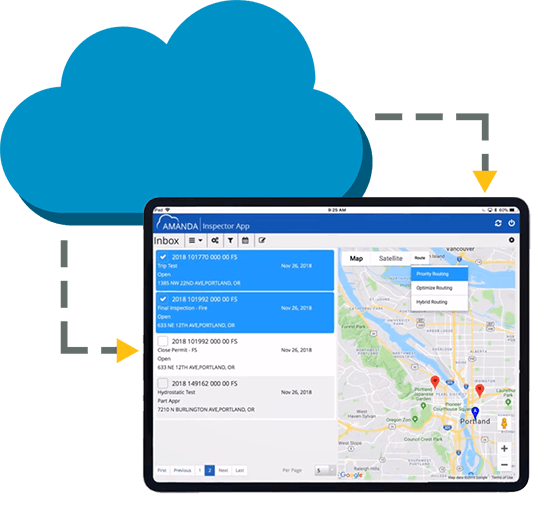 Vision33 offers Amanda in the cloud using Amazon Web Services (AWS). This allows government agencies to focus on serving citizens versus running business software and managing infrastructure. No matter the size of your business, using Amanda in the cloud frees you from the limitations of on-premises technology deployments.
Many government agencies have shifted their business applications to the cloud because cloud-based platforms eliminate the up-front costs of hardware and software and the need to have staff with highly technical troubleshooting skills. Running software in the cloud also nearly eliminates any downtime of your critical services, as Amazon's vast network of local and regional data centers ensures business continuity.
The feature-rich Amanda ensures you can run your agency from a single, unified location.
Unified and Secure
Consolidated information – A single database holds all your data, including property, people, assets, and vehicles.
Public access – Customers can apply, submit, track, manage, and pay online.
Third-party access – Internal and external teams can securely access role-based data.
Mobility – Field staff can access, share, store, and upload information on the go.
Multi-layered security – World-class authentication, access control, and encryption minimize risk.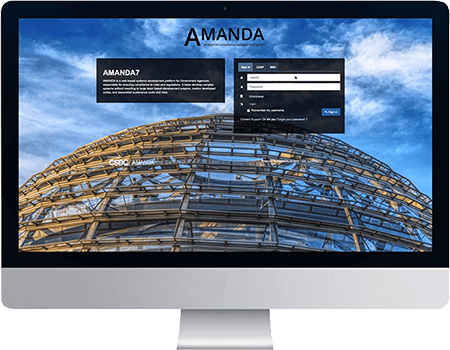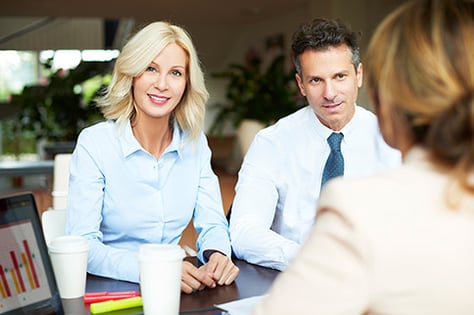 Flexible and Simple
Customization – Customize workflows and processes based on your rules and regulations.
Integration – Connect easily and seamlessly with other apps and platforms.
Scalability – Add unlimited databases and apps.
Dynamic workflows – Manage tasks and activities effectively with the workflow engine.
Amanda is an integrated solution that uses modern technology to comply with open standards and is easily configurable to meet the changing needs of all levels of government.
Gives citizens 24/7 access to government services
Eliminates manual processes for employees
Streamlines business processes
Enables communication and collaboration across departments and third-party applications
Automates permitting, planning licensing, service requests, inspections, and code enforcement
Manages electronic submissions, applications, integrated workflows, reviews, exams, renewals, audits, fees, complaints, comments, investigations, certifications, compliance activities, and more
Powered by Amanda's robust and configurable nature, targeted pre-built best practice solutions are available for building/land management and environmental health solution.
Agencies leverage Amanda's best practice solutions to model, deliver, and administer the critical processes that drive the highest levels of citizen services. Built-in automation minimizes the need for manual intervention and ensures implementation services are delivered quickly and efficiently.
Government agencies enjoy a wealth of benefits when they move citizen services online with Amanda.
Several benefits stand out for making the daily lives of citizens and agency personnel easier.
Agencies can consolidate applications and map business processes across departments to create a common framework for many services.
Agencies can digitize and automate business processes to eliminate paper waste, errors, and manual labor.
Mobile workers can improve productivity by using their mobile devices to perform common tasks while in the field. They can adjust to changing situations in real time and provide faster answers/feedback to citizens and contractors.
Citizens and contractors can avoid time-consuming visits to government offices and transact with an agency at their convenience—anywhere, anytime.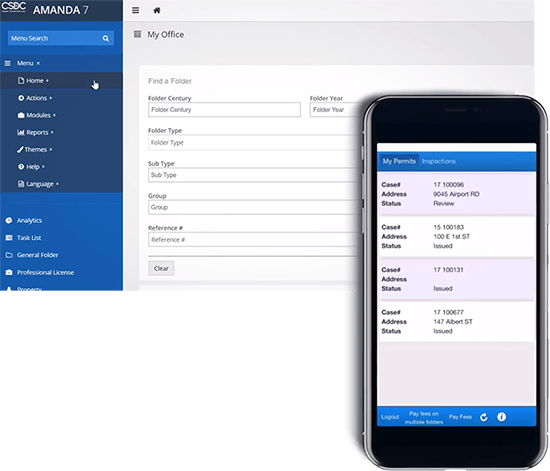 Vision33 provides comprehensive end-to-end implementation services for Amanda customers. We're a Platinum Amanda services partner and have performed 30+ Amanda implementations. As a proven partner, we're committed to serving government agencies with reliable solutions like Amanda.
Whether we're implementing a new system, upgrading an existing one, or providing support resources, our eGovernment professionals continuously help government agencies throughout North America realize maximum value from their Amanda investment.
We offer Amanda implementations both on-premises and in the cloud. Together, we'll choose the best option for your government agency and configure the platform to fit your needs.
For more information about Amanda services, please contact us.
Citizens and businesses expect to engage with your government agency the same way they interact with a retail eCommerce business: quickly and exactly how they want.
You can make that happen by migrating from outdated, on-premises software to the cloud.
And our playbook will help get you there.
Get your free copy here!